Baltimore Metro REACT is a volunteer, not for profit, 501 c-3 tax exempt organization

Designed & Maintained by
Illusion Branders















Member Login
Frozen Finger 5 Miler

Event Date: January 29, 2005

Event Start: 9:00am

Event End: Around 11:00

Location: Druid Hill Park, Baltimore, Maryland

Event Operations: Event Communications

Event Report

Our team assisted The Baltimore Road Runners club with event communications at key locations throughout the course. Our main job was to monitor the racers and the track conditions as there was ice in several locations and the course was open to a low volume of traffic.

Everything went well, except for one incident in which a motorist traveling at a high rate of speed came through the start/finish line and was headed toward the front of the runners. Upon seeing this, net control (being run by unit 687) contacted the closest unit (650) to where the vehicle was head and asked her to stop the vehicle and ask the motorist to slow down.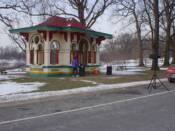 Building where net control and event coordinators were stationed. The start/finish line is in the foreground.