Baltimore Metro REACT is a volunteer, not for profit, 501 c-3 tax exempt organization

Designed & Maintained by
Illusion Branders















Member Login
2005 Columbia Triathlon

Event Date: May 22nd, 2005

Event Start: 8:00am

Event End: Around 2:00

Location: Centennial Park, Columbia, Maryland

Event Operations: Event Communications, Course Marshals

Event Report

Several of our team members worked in junction with the Columbia Amateur Radio Association (CARA) in providing communications throughout the run course of this event. With several members placed throughout the run course, another member ran net control for the team from the Howard County Mobile Command Post located near the start finish line. Despite some clouds in the morning, the event went off without any major problems, and the event provided some valuable learning experiences from working side-by-side with several public service agencies including the police and fire and rescue services.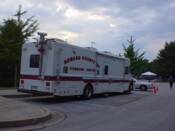 Howard County's Mobile Command Center where net control was established for the event.

Unit 687 runs net control from the mobile command center.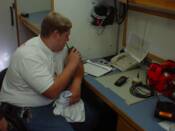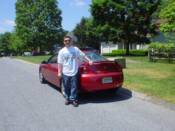 Unit 669 stationed at an intersection on the run course.